ちからの備忘録的日記 » cloud » HP Cloud Services プライベートベータ落選の4ヶ月後
「HP Cloud Services private beta applicationの結果」で、HP Cloud Service のプライベートベータの抽選に外れて残念って話をしました。
残念でしたが、前回の落選メールで以下の記載があったので、淡い期待していました。
However, we will certainly keep you informed as beta access becomes available.
あれから4ヶ月後に、こんなメールをいただきました。
Hello XXXXX,

Due to the high demand of the HP Cloud Services private beta we are pleased to announce that we will be expanding the private beta program to select individuals and companies.

We are very pleased to invite you to the private beta program which includes FREE, limited time access to HP Cloud Services.

Your help in testing and providing feedback of our initial offering of HP Cloud Compute and HP Cloud Object Storage would be greatly appreciated.

Please be aware that we are asking all Private Beta participants to:

1. Only create instances in US West 2 – AZ2

2. We request you limit your HP Cloud Compute usage to 5 instances.

3. Limit HP Cloud Object Storage usage to 2TB of total data across the account.

4. Only use this beta for testing purposes. No production workloads should be hosted on the system at this time.

To get started – Click the link below and paste your personal access code provided. You'll be prompted to set up your account and will be notified via email when it's been activated.

https://manage.hpcloud.com/invite?tenant_invitation_code=

Access Code:
xxxxxxxxxxxxxxxxxx-xxxxxxxxxxxxxxxxx-xxxxxxxxxxxxxxxxxxxx

Here are some helpful resources you might want to review:

– Getting Started: https://build.hpcloud.com/
– Blog & Forum: https://connect.hpcloud.com
– More videos from HP Cloud: http://vimeo.com/channels/270900

The HP Cloud Services Team!
淡い期待が現実に・・・
このメールをもらう数日前に、サブドメインを借りている友人(quickboy.com 所有者)が、このプライベートベータに招待されたと連絡をもらったので、もしかしたら、私にもくるといいなぁと思っていたところでした。
HP Cloud Services の 使い方は、以下の動画で説明されていてとても親切です。もちろん英語ですが、英語が不得意な私でも理解できるので、おそらく誰でも理解できるかと思います。
HP Cloud Services: Getting Started from HP Cloud on Vimeo.
とりあえず、Access Code を入れた後のダッシュボード画面を参考までに貼っておきます。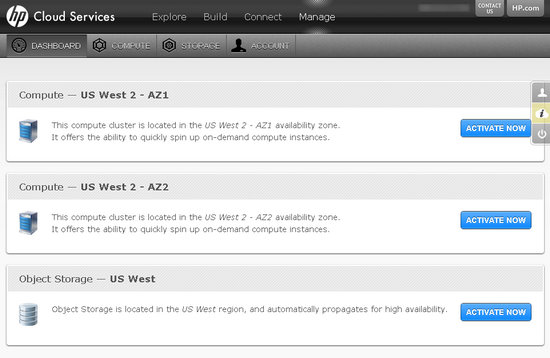 各サービスのアクティベーションボタンを押すと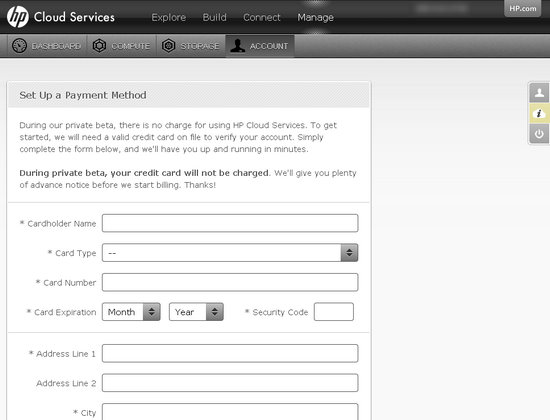 やはり、ここでもクレジットカードの登録が必要になります。利用料金は無料なのですが、どうも二の足を踏んでしまうクレジットカード登録。。。
ということで、次回クレジットカード登録後にベンチマーク等を取得してみたいと思います。
ではー。
Filed under: cloud · Tags: hp cloud services, nova, openstack, swift