ちからの備忘録的日記 » cloud, tips » UnixBench on Ubuntu 10.04 LTS@仕事場のPC
VMWare Server 上に構築した Ubuntu の性能を確認するために、byte-unixbench でベンチマークを取ってみました。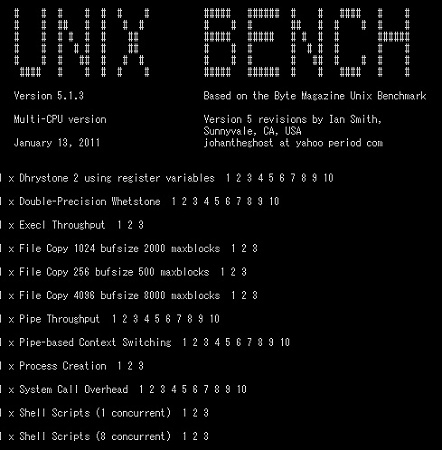 VMware 上の設定では、CPU x 1、メモリ 1GB を割り当てています。
byte-unixbench インストール

# wget http://byte-unixbench.googlecode.com/files/UnixBench5.1.3.tgz
# gunzip -c UnixBench5.1.3.tgz | tar xf -

グラフィック系のテストはしないので、READMEにあるとおり、Makefileを
修正。
UnixBench from version 5.1 on has both system and graphics tests.
If you want to use the graphic tests, edit the Makefile and make sure
that the line "GRAPHIC_TESTS = defined" is not commented out; then check
that the "GL_LIBS" definition is OK for your system. Also make sure
that the "x11perf" command is on your search path.

If you don't want the graphics tests, then comment out the
"GRAPHIC_TESTS = defined" line. Note: comment it out, don't
set it to anything.
修正前と修正後の diff 結果。

$ diff Makefile.org Makefile
50c50
< GL_LIBS = -lGL -lXext -lX11
---
> #GL_LIBS = -lGL -lXext -lX11

ということで、あとは make&実行するだけ。

# cd UnixBench/
# make
# ./Run

私の環境では、30分ほどかかりました。
UnixBench on Ubuntu 10.04 LTS の結果
意外と結果がよかった感じです。
swift も動いている状況で、これでしたので。

# cat results/ubuntu-2011-06-16-01
   BYTE UNIX Benchmarks (Version 5.1.3)

   System: ubuntu: GNU/Linux
   OS: GNU/Linux -- 2.6.32-28-server -- #55-Ubuntu SMP Mon Jan 10 23:57:16 UTC 2011
   Machine: x86_64 (unknown)
   Language: en_US.utf8 (charmap="UTF-8", collate="UTF-8")
   CPU 0: Intel(R) Core(TM)2 Duo CPU E7500 @ 2.93GHz (5852.1 bogomips)
          x86-64, MMX, Physical Address Ext, SYSENTER/SYSEXIT, SYSCALL/SYSRET
   17:18:23 up  4:36,  1 user,  load average: 0.02, 0.11, 0.19; runlevel 2

------------------------------------------------------------------------
Benchmark Run: 木  6月 16 2011 17:18:23 - 17:46:35
1 CPU in system; running 1 parallel copy of tests

Dhrystone 2 using register variables       25972509.5 lps   (10.0 s, 7 samples)
Double-Precision Whetstone                     3416.5 MWIPS (10.0 s, 7 samples)
Execl Throughput                               1405.0 lps   (29.8 s, 2 samples)
File Copy 1024 bufsize 2000 maxblocks        738520.6 KBps  (30.0 s, 2 samples)
File Copy 256 bufsize 500 maxblocks          284644.0 KBps  (30.0 s, 2 samples)
File Copy 4096 bufsize 8000 maxblocks       1250281.1 KBps  (30.0 s, 2 samples)
Pipe Throughput                             1857912.1 lps   (10.0 s, 7 samples)
Pipe-based Context Switching                 148176.4 lps   (10.0 s, 7 samples)
Process Creation                               2237.3 lps   (30.0 s, 2 samples)
Shell Scripts (1 concurrent)                   2366.7 lpm   (60.0 s, 2 samples)
Shell Scripts (8 concurrent)                    308.4 lpm   (60.1 s, 2 samples)
System Call Overhead                        2663196.6 lps   (10.0 s, 7 samples)

System Benchmarks Index Values               BASELINE       RESULT    INDEX
Dhrystone 2 using register variables         116700.0   25972509.5   2225.6
Double-Precision Whetstone                       55.0       3416.5    621.2
Execl Throughput                                 43.0       1405.0    326.7
File Copy 1024 bufsize 2000 maxblocks          3960.0     738520.6   1865.0
File Copy 256 bufsize 500 maxblocks            1655.0     284644.0   1719.9
File Copy 4096 bufsize 8000 maxblocks          5800.0    1250281.1   2155.7
Pipe Throughput                               12440.0    1857912.1   1493.5
Pipe-based Context Switching                   4000.0     148176.4    370.4
Process Creation                                126.0       2237.3    177.6
Shell Scripts (1 concurrent)                     42.4       2366.7    558.2
Shell Scripts (8 concurrent)                      6.0        308.4    513.9
System Call Overhead                          15000.0    2663196.6   1775.5
                                                                   ========
System Benchmarks Index Score                                         856.7

Filed under: cloud, tips · Tags: byte-unixbench, ubuntu, unixbench