ちからの備忘録的日記 » cloud » cyberduck で swift ライフ満喫!したかった・・・
Cyberduck インストール
Cyberduck | FTP、SFTP、WebDAV、Cloud Files、Google Docs、S3用ブラウザ、MacとWindows対応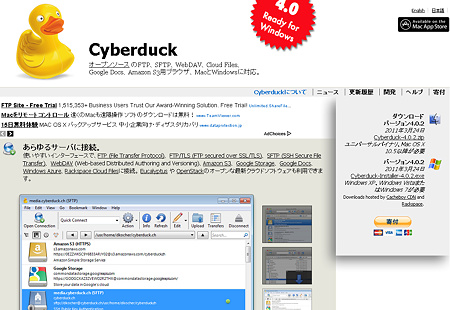 上記のページから、Windows のインストーラをダウンロードして実行。
特にはまる要素がないため、説明は割愛。
Cyberduck 設定
接続設定
Swift 用に接続設定をいれます。基本は、以下のマニュアルどおりです。
5.1.2. Part II: Configuring Cyberduck | OPENSTACK MANUALSOPENSTACK OBJECT STORAGE ADMINISTRATOR MANUAL – CACTUS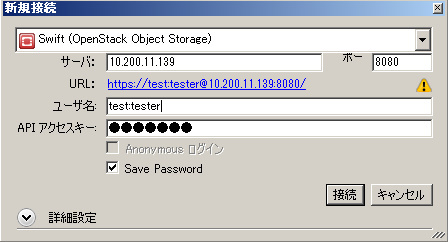 上記の画像のとおり設定をいれます。
cyberduck では、swift については HTTPS にしか対応していないので、swift 側で HTTPSを有効にしておく必要があります。方法については、前回の記事を参考にしてみてください。
隠し設定の追加
you want to change the context of the URL from the default /v1.0 by opening a Terminal window and using defaults write ch.sudo.cyberduck cf.authentication.context to change the URL. Substitute /auth/v1.0 for the (Mac OSX)
実は、デフォルトのURLだとうまく接続できません。/v1.0 ではなく、/auth/v1.0 という変更にする必要があります。Mac OSX の変更方法は記載されているのですが、Windowsがありません。Cyberduckのページを漁ってみると何となくありました。

■ Cyberduck の設定ファイルの場所

Windows 7. C:\Users\[username]\AppData\Roaming\Cyberduck
Windows Vista. C:\Users\[username]\AppData\Roaming\Cyberduck
Windows XP: C:\Documents and Settings\[username]\Local Settings\Application Data\Cyberduck

上記フォルダ以降は、共通で以下の通り。

Cyberduck.exe_Url_[id]\[version]\user.config

私の環境の場合は、以下にありました。

C:\Users\nemf\AppData\Roaming\Cyberduck\Cyberduck.exe_Url_y3p2ebapuyakx1wepw5uc1dcj54dho4b\4.0.2.8601\user.config

以下のハイライト部分を追加します。

<setting name="CdSettings" serializeAs="Xml">
  <value>
    <settings>
      ...snip...
      <setting name="cf.authentication.context" value="/auth/v1.0" />
    </settings>
  </value>
</setting>

設定追加後に、cyberduck を再起動します。
接続確認
swift に接続してみます。が、以下のエラーが。
どうも X-Storage-URL が 127.0.0.1:8080 でレスポンスとして返ってきていて、127.0.0.1 に接続しにいってエラーになっているようです。
同じように苦しんでいる人がいたみたいで、
Question #157858 : Questions : OpenStack Object Storage (swift)

In the swauth section of the proxy config, use the config option default_swift_cluster

# You may also use the format name#url#url where the first url is the one
# given to users to access their account (public url) and the second is the one
# used by swauth itself to create and delete accounts (private url). This is
# useful when a load balancer url should be used by users, but swauth itself is
# behind the load balancer. Example:
# default_swift_cluster = local#https://public.com:8080/v1#http://private.com:8080/v1

Once you change "pubic.com" to a public IP address and restart the proxy server the next account that you create will reference that public IP in the X-Storage-URL.

proxy-server.conf の default_swift_cluster 値を設定することで、解決できるようです。
ということで、早速以下のように proxy-server.conf を追加し(ハイライト部分)、proxy-server を再起動。

[filter:swauth]
use = egg:swift#swauth
default_swift_cluster = local#https://10.200.11.139:8080/auth/v1
super_admin_key = swauthkey


# swift-init proxy-server restart

結果は、変わらず・・・。ということで、今回は諦めました。。。
参考
Filed under: cloud · Tags: cactus, cloud, cyberduck, object storage, openstack, swift