ちからの備忘録的日記 » cloud » OpenStack Swift 1.4.x Diablo
Swift 1.4.1 リリース
OpenStack の ML に、Swift 1.4.1 リリースのお知らせがありました。
st renamed to swift
swauth was separated froms swift. It is now its own project and can be found at https://github.com/gholt/swauth
tempauth middleware added as an extremely limited auth system for dev work.
Account and container listings now properly labeled UTF-8 (previously the label was "utf8").
Accounts are auto-created if an auth token is valid when the account_autocreate proxy config parameter is set to true.
簡単に訳してみました。
st コマンド名 を swift コマンド名に変えました
swauth を swift から別プロジェクトとして独立させました。必要な情報は、https://github.com/gholt/swauth をみてね。
tempauth を開発用の認証システムとして加えました。
アカウントとコンテナ表示のラベルを UTF-8 に修正しました。(修正前は、utf8)
アカウントの自動作成機能を proxy設定パラメータに追加しました。
Swift 1.4.1 ダウンロード
以下から、ダウンロードできます。
Tarballs are at: https://launchpad.net/swift/diablo/1.4.1
Packages are at: https://launchpad.net/~swift-core/+archive/release
Swift 1.4.x Diablo リリーススケジュール
OpenStack wiki にリリーススケジュールが記載されていましたので、ご紹介です。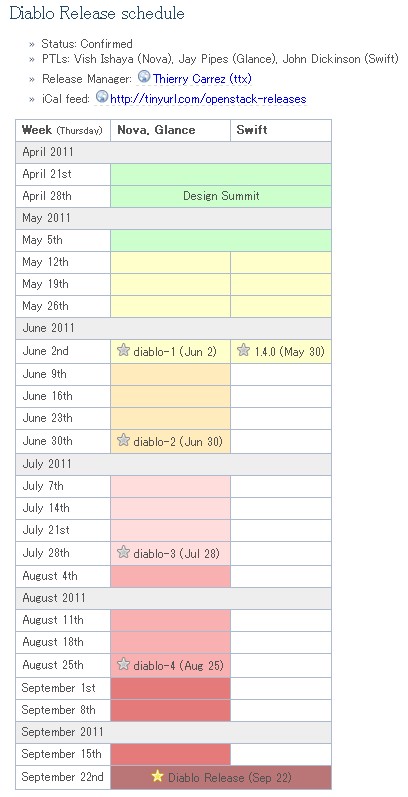 2011/9/22 にリリース予定ですね。この後、デザインサミットを実施する予定のようです。詳しくは、以下URLを参照してみてください。
Hold the Date – OpenStack Conference — The OpenStack Blog
Diablo の次は?
Diablo の次のリリースネームが、以下の公式ブログに記載がありました。。
Community Weekly Newsletter (June 17 – 24) — The OpenStack Blog
Essex
3か月おきに出すみたいなので、リリースはクリスマスぐらいでしょうかね。
Filed under: cloud · Tags: diablo, openstack, swauth, swift, tempauth